[expand title="What is Biotechnology?" tag="h3″ rel="animal-highlander" trigclass="highlight"]
At its simplest, biotechnology is technology based on biology – biotechnology harnesses cellular and biomolecular processes to develop technologies and products that help improve our lives and the health of our planet. We have used the biological processes of micro-organisms for more than 6,000 years to make useful food products, such as bread and cheese, and to preserve dairy products.
Modern biotechnology provides breakthrough products and technologies to combat debilitating and rare diseases, reduce our environmental footprint, feed the hungry, use less and cleaner energy, and have safer, cleaner and more efficient industrial manufacturing processes.
Currently, there are more than 250 biotechnology health care products and vaccines available to patients, many for previously untreatable diseases. More than 13.3 million farmers around the world use agricultural biotechnology to increase yields, prevent damage from insects and pests and reduce farming's impact on the environment. And more than 50 bio refineries are being built across North America to test and refine technologies to produce biofuels and chemicals from renewable biomass, which can help reduce greenhouse gas emissions.
Recent advances in biotechnology are helping us prepare for and meet society's most pressing challenges.
[/expand]
[expand title="Healing the World" tag="h4″ rel="animal-highlander"]
Biotech is helping to heal the world by harnessing nature's own toolbox and using our own genetic makeup to heal and guide lines of research by:
Reducing rates of infectious disease;
Saving millions of children's lives;
Changing the odds of serious, life-threatening conditions affecting millions around the world;
Tailoring treatments to individuals to minimize health risks and side effects;
Creating more precise tools for disease detection; and
Combating serious illnesses and everyday threats confronting the developing world.
[/expand]
[expand title="Fueling the World" tag="h4″ rel="animal-highlander"]
Biotech uses biological processes such as fermentation and harnesses biocatalysts such as enzymes, yeast, and other microbes to become microscopic manufacturing plants. Biotech is helping to fuel the world by:
Streamlining the steps in chemical manufacturing processes by 80% or more;
Lowering the temperature for cleaning clothes and potentially saving $4.1 billion annually;
Improving manufacturing process efficiency to save 50% or more on operating costs;
Reducing use of and reliance on petrochemicals;
Using biofuels to cut greenhouse gas emissions by 52% or more;
Decreasing water usage and waste generation; and
Tapping into the full potential of traditional biomass waste products.
[/expand]
[expand title="Feeding the World" tag="h4″ rel="animal-highlander"]
Biotech improves crop insect resistance, enhances crop herbicide tolerance and facilitates the use of more environmentally sustainable farming practices. Biotech is helping to feed the world by:
Generating higher crop yields with fewer inputs;
Lowering volumes of agricultural chemicals required by crops-limiting the run-off of these products into the environment;
Using biotech crops that need fewer applications of pesticides and that allow farmers to reduce tilling farmland;
Developing crops with enhanced nutrition profiles that solve vitamin and nutrient deficiencies;
Producing foods free of allergens and toxins such as mycotoxin; and
Improving food and crop oil content to help improve cardiovascular health.
[/expand]
[expand title="Career Opportunities:" tag="h3″ rel="animal-highlander"]
Once you are Graduated, you can consider employment in ,……
Biotechnology is a rapidly developing sector. Advancements are being made at good pace in this sector. Big firms are pouring in big money into it and new business opportunities are developing in this sector. These things have led to huge increase in job openings in this sector. In short, Biotechnology graduates are in huge demand these days. Finding a good job after graduation is not a tough task.
In Government sector Biotechnologists are absorbed as Lectures in Universities, after the completion of post-graduation, Environmental Officers (Environmental Pollution Authority, Waste Water Treatment Plant etc.,) Soil Analysts (Agricultural Department).
Quality Analysts in Industries such as Health care, Pharmaceutical, Cosmetics, Airline, Water purification, Bio fertilizers and Bio pesticides manufacturing, Textile and Leather, Food manufacturing etc,….
Arthur C. Clarke Institute for Modern Technologies is a major research institution, and the national focal point for space technology applications in Sri Lanka.
Rice Research and Development Institute – Department of Agriculture
Medical Research Institute of Sri Lanka, Clinical trial and drug designing,
Institute for Research & Development
National Aquatic Resources Research and Development Agency
Lanka Education and Research Network
Tea Research Institute of Sri Lanka
Rubber Research Institute of Sri Lanka
Coconut Research Institute – Sri lanka
Hector Kobbekaduwa Agrarian Research and Training Institute
Ministry of Technology and Research
Central Bank of Sri Lanka – Research Studies
Sugarcane Research Institute – Sri Lanka
Centre for Women's Research (CENWOR)
Peradeniya Veterinary Research Institute (VRI)
Institute of Policy Studies of Sri Lanka (IPS)
Institute of Fundamental Studies SLINTEC | Sri Lanka Institute of Nano Technology
Institute of Applied Statistics Sri Lanka
IHP – Institute for Health Policy Homepage
Ministry of Technology and Research
Sri Lanka Council for Agricultural Research Policy (SLCARP)
Bandaranayake Memorial Ayurvedic Research Institute
Clothing Industry Training Institute (CITI) and Textile Training Services Centre (TTSC),
Textile and Leather Industry.
Natural Resources Management Centre (NRMC)
Clinical Research in new drug discovery at National and International level.
DNA fingerprinting – a key technique in forensic science
Traditional brewing and distilling industry
Food industries employing new strains of microorganisms to produce fermented food products and synthetic microbial meat substitute
Bioremediation technologies for the treatment of residues/wastes
Biotransformation of chemical and drugs in the Pharmaceutical industry
Marketing sector of Biotechnology products, pharmaceuticals and chemicals
Production application specialist in Biotechnological instruments.
Health Care Industry
Pharmaceutical Industries
Medical Diagnostic Centres & Medical coding sectors (Dry Lab)
Health care centres and Clinical Laboratories,
Join in as Scientific writers in life science companies,
Medical transcriptionists,
Bio fertilizers and Bio pesticides manufacturing industry.
Cosmetic Industry.
Medical Insurance sectors.
Airline catering Industry.
Water purification plants.
[/expand]
[expand title="Post Graduate Opportunities" tag="h3″ rel="animal-highlander"]
Postgraduate Opportunities in Sri Lanka or Australia, New Zealand, Canada, USA etc,.. with the intention of processing for PR in those countries:
There are many attractive prospects of availability of lucrative scholarships in Australia, Canada, USA, Europe for post graduates. Many students opt to study for the M.Sc. Biotechnology in Sri Lanka too. In Peradeniya or Colombo University. Following are some fields you can venture into, depending on your future career interests.
| | |
| --- | --- |
| M.Sc Biotechnology | M.Sc. in Plant Biotechnology |
| M.Sc in Pharmacovigilance and Clinical Data Management | M.Sc. in Bioinformatics & Biostatistics |
| M.Sc in Clinical Research | M.Sc. of Veterinary Science in Veterinary Biotechnology |
| Masters in Health Administration | M. Pharma |
| M.Sc in Applied Biotechnology | M. Tech in Biomedical Engineering / Biotechnology |
| M.Sc in Zoology (Animal Biotechnology) | M. Phil in Biotechnology |
| M.Sc in Industrial Biotechnology | M.Tech in Biotechnology |
| M.Sc in Marine Biotechnology | Post M.Sc (Agriculture) Biotechnology |
| M.Sc in Medical Biotechnology | PhD in Biotechnology / PhD in Biological Science |
Today, Biotechnology companies are looking for graduates who are bilinguistic, means who can understand the scientific as well as management issues at the same time. There are some universities in UK and USA where you can opt for; MBA in Biotechnology.
However this is a blended course and can shape your career on a management role. But the better advice is to go for an M.Sc in a related science field and after working for about 3 – 4 years do an MBA. Then you can seek a Management role in the firm you are working. Europe is quite strong in Biotechnology.
An MBA immediately after your B.Sc Biotechnology will move you away from your technical stream and very rarely can you find jobs related to Biotechnology after an immediate MBA.
There are many MBA's you can opt for depending on your developed career, such as ; MBA in Pharma Marketing & Management
[/expand] 
Comparative Annual Expenditure of Studying Abroad
University Education in Indian Government Commonwealth Universities is the most cost effective and internationally recognized higher educational pathway for Sri Lankans if not selected to a Government University in Sri Lanka.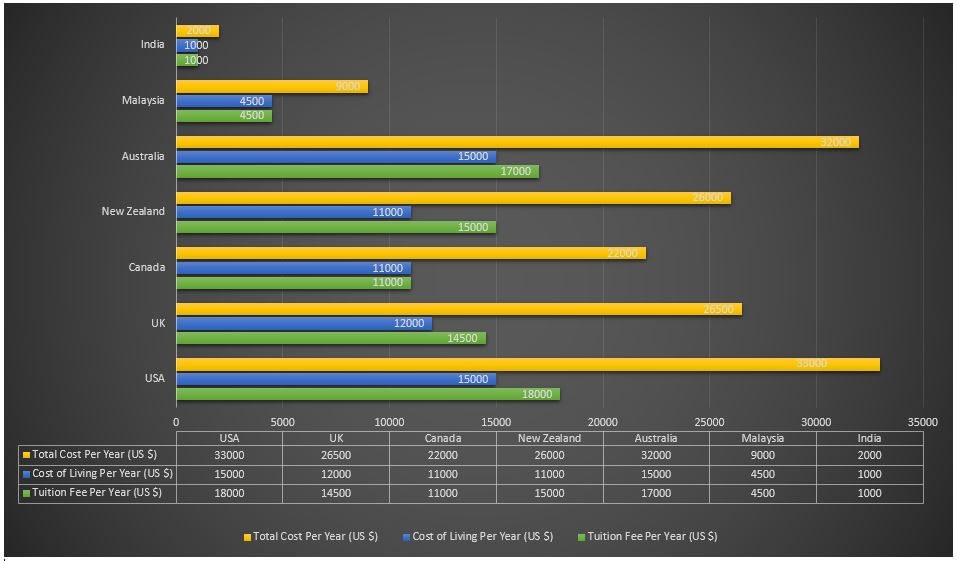 The burning question is ….. Are you ready? Similar initiatives are cropping up all over the globe. Our personal behaviors must change, and education is the way forward. 
Educating the future generation increase achievement in applying innovative technology and master skills for life work and citizenship in the 21st Century.
We are involved in Educating Sri Lankan and Maldivian Advanced Level qualified students, in Indian Universities : This programme "STUDY OVERSEAS" is run by the esteem Sri Lankan institution AMASA INSTITUTE OF PROFESSIONAL STUDIES, in Association with GLOBAL ENVIRONMENTAL YOUTH EDUCATION FOUNDATION'' since 1991.
We do highly recommend you to study in an India Government University and increase the standard and quality of life as an internationally qualified university graduate and become a valuable asset to the country. There are many other benefits for you and the country in studying in India – visit the site www.studyoverseas.lk
For further information call 0777 840028.